Erik Rickard, Graphic Designer/Pre-Press Specialist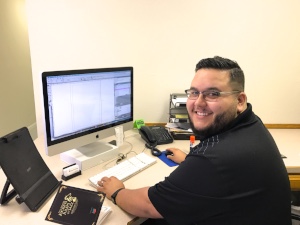 Erik was born and raised in Midland, Texas and values his hometown as a great place for much opportunity. While his educational background is in small business management, he has enjoyed growing his knowledge of the printing industry. From learning press production and finishing to customer service and graphic design, Erik has thrived quickly at the printshop.
He is the link in between design and production. Erik says his favorite part of the business is using his creativity and problem solving skills to help clients create custom designs. He also gives great advice when it comes to making documents press ready if they have already been designed.
At home Erik enjoys spending time with his wife, Dannielle, and playing with their dogs, Otis, Delilah, and Ezekiel.